At Airworx Air Conditioning, we work only with air conditioning, meaning our licensed technicians are highly specialized in the field. While competitors might try to sell you the same AC unit they sold to a home down the street, we know that not all AC units are equal.
Airworx Air Conditioning has a wide array of commercial experience spanning more than 15 years in South Florida. We understand the AC needs of a commercial building, and we promise to minimize any inconvenience that servicing your air conditioning, heating, or refrigeration needs entails.
The Airworx Air Conditioning difference
Did you know that there are special qualifications to work on commercial air conditioning units? At Airworx Air Conditioning, we take this very seriously. Our team of professional and licensed technicians will provide you with:
You deserve service from HVAC technicians who care about the quality of their work and the quality of the air you're breathing.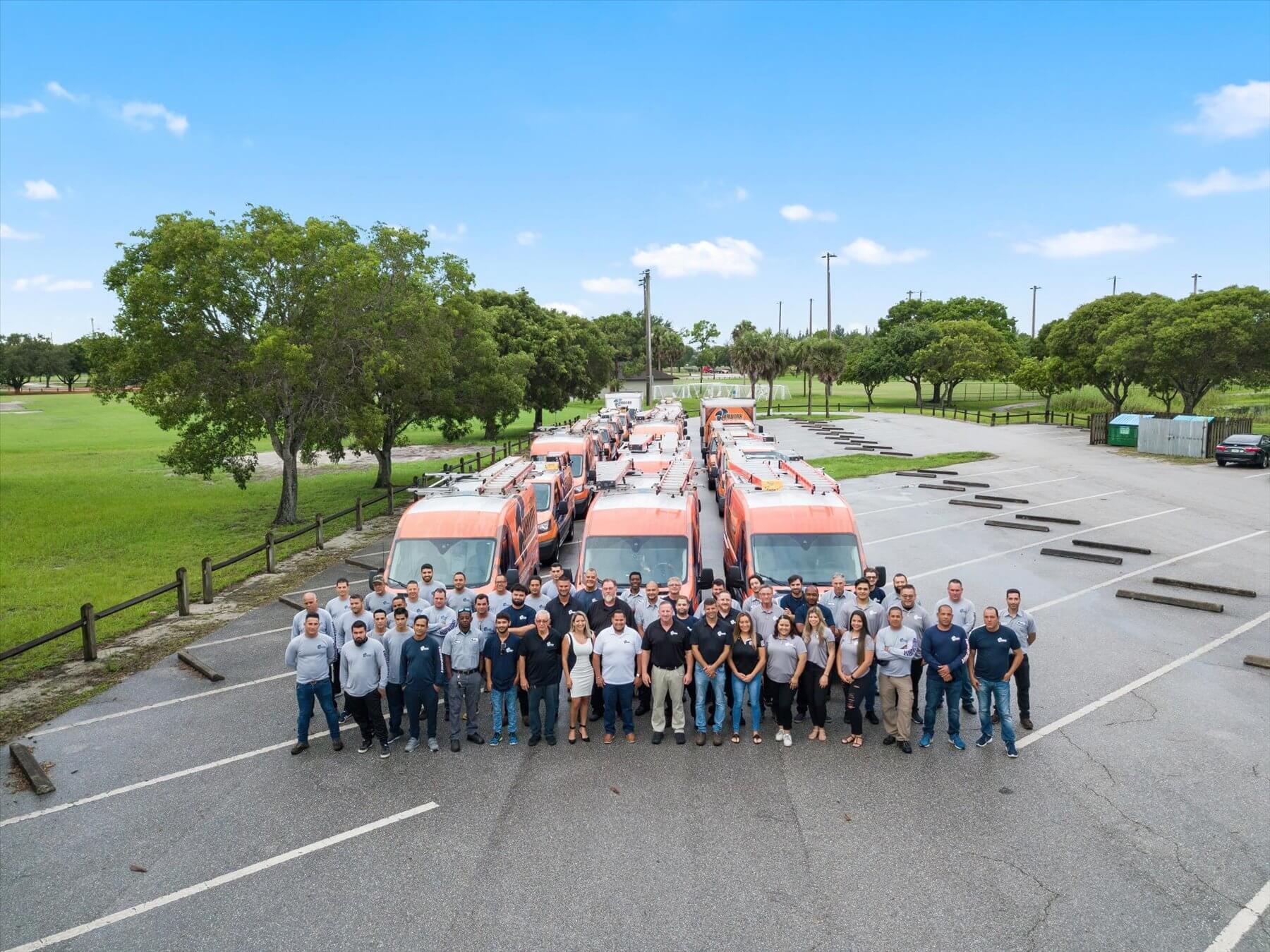 If you're looking to upgrade your commercial AC unit, Airworx Air Conditioning offers a range of air conditioners from brands we trust and love, including Goodman, Trane, Carrier and more. All of our installations come with warranties unmatched by our competitors, and they're always at a fair price. Not only that, but you get a lifetime guarantee on our work.
Choosing the right commercial AC unit
When choosing your new commercial air conditioner, you'll need to consider several factors when making your decision:
When you talk with the professionals at Airworx Air Conditioning, we'll help you make a decision that's right for your space and your wallet. We've built our reputation on a foundation of integrity and honesty, and we promise to never sell you something you don't need. We want you to make the best choice for you.
A cost-effective solution
It may be hard to justify the cost of your new commercial AC unit, especially if you're a small business owner. However, we want you to rest assured that you're getting the best deal on the market. Our high-quality brands come with unmatched prices, amazing warranties, and access to 24/7 emergency repairs—so you'll never be left in the heat.
Can't pay the full bill at once? We've partnered with Wells Fargo to bring you 0% financing on a payment plan that works for you. Regardless of your credit score, we can work out a solution that meets your needs. Our partnership also means that we're able to get you a response as soon as possible, so you can cool down and get back to your normal routine.
Schedule your commercial AC consultation today!
Special Financing Available!*
David Del Russo
2023-07-22
Woke up this morning and the air conditioning would not turn on. It was fine when we went to bed last night. But we woke up this morning, and it was hot. We called Airworx This was 10:30 AM on a Saturday. Wilbert arrived in less than 3 hours. He checked a few things. Bypassed our thermostat, and the AC turned right on. What a relief ! All we needed was a new thermostat. He had one on his truck. Was able to install it right away. The house was cool again within one hour. Very honest and friendly. Thank you Airworx!
First time using this company as just signed a contract. Got a notice tech was in route. Mike arrived on time and explained to me exactly what was the problem and how he would resolve it. He was terrific and my AC unit is now running perfectly. I would recommend this company and Mike to anyone looking for a professional company to service AC needs.
Just a brief note to express our appreciation for Wilbert's technical help. He was outstanding. Exceptionally knowledgeable. Terrific communicator. Have met lots of techs over the years; Wilbert was the best ever!
Mike did a great job of servicing my hvac system
Let me get started by saying I might be biased because of just how bad my previous HVAC company was. They were so bad they tried paying me to lie about their services. Airworx on the other hand has been rock stars since day one. I called them on a friend's referral and the sales process was a breeze for both my properties. Larry helped. Made it simple. Gave me everything in writing and even explained my options and worked with me to make sure I'd be taken care of. After I agreed and paid, he even followed up to make sure my preventive maintenance got taken care of. Then the day came. And Mike showed up. You know those guys that explain things to you and take the time to show you why things happen - he did all of that and more. Every time something I should know happened - he let me know in advance. The unit had never been serviced - was supposed to have been by the previous provider - but Mike showed me the unbroken seal. But he took care of me and was extra through to make sure everything worked and there was no mold. He was great. I feel so comfortable having Airworx and Mike look after the unit because I feel I'll get the full 10+ years out of the unit. Thank you guys for being great! Highly recommend these guys. 5 stars. Plus 1 extra bonus star!
Excellent, cannot say enough about how fast, curteous, kind and thorough the whole operation is, from office to the air conditioner professionals.
I had my regular maintenance for both air-conditioners and Wilbert was a true professional. I have been working with airworx for about 4 years now and have always had a great experience. This time was a bit different, Wilbert went the extra mile to make sure my dehumidifier on my upstairs unit was enabled and working properly, he took the time to explain what he did and I already feel the difference upstairs. I always feel comfortable knowing I have airworx in case something happens with my AC thanks again.
The office staff was so helpful, and answered all my questions. The tech was on time and fixed everything hassle free!
LUIS BENAVIDES
2023-06-20
Pilar rocks , thank you so much for a great experience.